Dentist
Dr. Rima Kanbaragha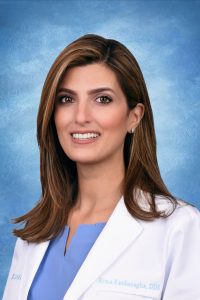 Dr. Rima Kanbaragha is dedicated to providing high-quality dental care to patients at her dental clinic in Arlington VA with a compassionate, caring, and understanding style. She obtained her Doctor of Dental Surgery degree from the College of Dentistry at the University of Jordan in 2010. She then pursued an advanced degree in general dentistry (AEGD – Advanced Education in General Dentistry) from the Florida Institute for Advanced Dental Education in Miami, Florida. Upon completion of her degree in 2015, she began and continues to practice general dentistry in the greater Washington D.C. metropolitan area.
Dr. Rima is fluent in both English and Arabic. Her awareness of these different languages makes her accessible to patients from a variety of cultural backgrounds. She believes in carefully listening to each patient and creating a partnership to improve and maintain a lifelong health record. She believes that effective listening uncovers her patients' real needs, which ultimately translates to better treatment and happier patients.
Dr. Kanbaragha is a member of the American Dental Association and the Virginia Dental Association. She is a Faculty Club member at the Spear Education Center in Scottsdale, Arizona, arguably the most prestigious continuing dental education program in the world.
Dr. Rima resides in Mclean, Virginia with her husband and two children. They enjoy traveling together, swimming, and outdoor activities.