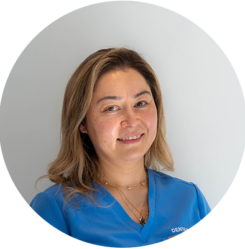 Dentist
Dr Dilnoza Hojaeva
Dilnoza Hojaeva, DDS, is a talented dentist with over a decade of experience treating adults and children, ensuring that all her patients get the best that modern dentistry has to offer.
Dr. Hojaeva earned her Doctor of Dental Surgery (DDS) from the Virginia Commonwealth University School of Dentistry VCU, Advanced Standing Program. She also holds a Bachelor of Dental Science degree from Tashkent State Medical University in Tashkent, Uzbekistan.
Over the years, Dr. Hojaeva has been striving to continually improve her expertise in the latest technologies and procedures offering high standard general and cosmetic dentistry. She combines comfort with quality, and patients trust her as their source for general, restorative, and cosmetic dentistry needs.
Dr. Hojaeva is a member of the American Dental Association (ADA) and the Northern Virginia Dental Society (NVDS). She is passionate about giving back to her community and has participated as a volunteer in Mission of Mercy and Give Kids a Smile programs that address the overwhelming need for access to free oral health care to underserved Virginians. These programs provide preventive, restorative, and surgical dental treatments to low-income individuals each year and create an opportunity for kids who can't usually afford to see a dentist to receive free dental care. Dr. Hojaeva enjoys spending quality time with her family, traveling, and hiking.